Letters from Our Clients
(Testimonials)
---
Brenda was absolutely wonderful! I cannot believe that I have not used this service before. In fact, my friend who was staying at the house the other days when Brenda was not taking care of the dog - said that she felt like she could not be "outdone" by Dusk to Dawn because Brenda walked Grayce!
Your team, you, and the service provided is just perfect.
--Julie Ann
---
We so appreciate Karen (and you!). She is so loving to our three -- you'd think they were her favorites, AND I KNOW EVERY pet owner thinks that about her care of their babies! When we get home, we run to the the notes she writes -- helpful, truthful, and the perfect mix of humor. They are the talk of the evening for us with the pups! Karen's just what these these crazy babies need!

--Connie Erpelding
---
" Dawn with Dusk to Dawn is so easy to work with - she responds promptly and is very friendly.
I appreciate how responsive Dusk to Dawn has been when I've needed to leave town suddenly.
I hate leaving our "kids" home alone but we never worry about their well-being when Shellie is their sitter. Shellie's texts and notes make me feel like she loves Mulligan and ZuZu as much as I do!"
Thank you!
Angela Conrad

---
Thank you so much for the peace of mind that Nicole brought to me during my trip. Bailey is truly my baby, and Nicole kept me updated with texts. I didn't worry. That truly made a wonderful trip for me
Harriett
---
"We want to thank you so very much for taking such great care of Sylvester and fitting us in to the busy weekend schedule. You all have such amazing integrity and love for the pets, which is an enormous weight off being away. A huge thank you to Shellie. Her communication was so helpful."
Brenda K
---
Everything went well, thanks! I feel very blessed to have your service! You're great service & care makes getting away so easy & wonderful! Thank you so much!
Patti
---
Dawn: I can't tell you how much I appreciate your rapid response to my emergency.
See this link for the full story (will open in a new tab.)
Lori H
---
I do consider this some of the best money spent in a month and on Violet. Being single, I can't give her all of the attention she deserves and her walks really pay off in her health, behavior and happiness.
---Marcy
---
Dusk to Dawn has been taking care our dog Sophie for over 3 years. Sophie is treated very well by their staff and we can go on trips without having to worry. They go above and beyond just pet car by getting our mail, newspaper and winding our grandfather clock. We lost Mugsy to kidney failure over a year ago… Marilyn from Dusk to Dawn was a "god send". During one of our trips, Mugsy became very sick…Marilyn took care of him as if it was her pet. We would highly recommend their services to anyone that has a precious pet.

Maria & Dutch Imfeld
Cedar Falls, Iowa
---
We absolutely hate leaving our furry four legged children but sometimes we don't have a choice. We have had to go as far as changing our plans in order to have someone we trust care for them while we were gone. The entire time we were gone we would worry about them and even check up on them through calls and text messages. Once we have found you guys that all changed.
Now, we are very comfortable when we leave because we know their sitter Vania is great with them and more importantly they love having her around. We no longer feel the need to have to check in while we are away. We knew right away at the meet and greet that your services were exactly what we were looking for and needed. We have utilized both the day visits and overnights and couldn't be more pleased with the care our "kids" have received.
Thank you so much for the care and compassion you have shown as well as the quality of service you have provided. You guys are the best!
Jordan and Kim and our kids (Fawn, Justice, Zander and Baylee)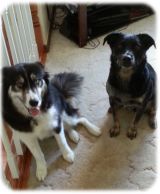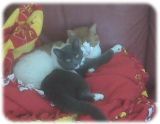 ---
We have been using Dusk to Dawn Services for many years and have always
been more than happy with the care that our dogs get. Recently that became
even more important as we prepared for this year's vacation. Yoda is 15
years old, partially blind, doesn't always like to eat when he should and
he has had a seizure or two over the past few months. We were seriously
concerned about leaving him home for week.
We contacted D to D and explained our concerns. Marilyn paid us a visit
the week before we were to be gone and really took the time to understand
Yoda's needs. We were still a bit apprehensive as we hit the road but
everything went extremely well. We had a great week and from the reports
we received upon returning home, so did Yoda.
With his vision and other issues; there was really no way that he could
have been as happy and content at a boarding kennel.
Thanks to Dawn for providing such a wonderful service and thanks to Marilyn
for being so kind and considerate of Yoda. Oh, yes, Sunny had a pretty
good time too.
Jon McNamee

---
We can't say enough wonderful things about Dawn to Dusk Petsitting Service. They are our lifesavers when we have to be away from our beloved golden retriever. They are always there for us .... sometimes at a moment's notice when we've had a whim to take a day trip. A few years ago when my father had a stroke and subsequently died, we had to make emergency trips to Chicago and there was no hesitation...they were there for us. We always find nice notes about the visits and her well being. We call often just for our own reassurance and are always given wonderful, detailed reports on how she is doing. We are SO grateful to have them here for our baby!
--Julie-
---
I started using Dusk to Dawn over four years ago because I began commuting for work and did not want my dog, Ruby, to be alone for such a long day. The sitters of Dusk to Dawn have visited my home nearly every week since then. They really took the time to get to know Ruby before they even made the first official visit. Ruby just loves her sitter and is so content when I get home. They really go the extra mile to take care of her, and the notes they leave behind really bring a smile to my face. She is very lucky dog to have Sandi and Dawn to take care of her!

I've also had the occasion to use the overnight service offered by Dusk to Dawn. Allowing Ruby to stay at home while I'm away is less stressful on both of us, and having the sitter stay with her overnight is an added comfort. The sitters are professional, responsible and trustworthy, and it gives me great peace of mind to know they are taking care of my dog while I'm away. I would recommend them to anyone who needs a pet sitter.

--Stacey-
---
I love Dusk to Dawn because my dogs can stay at home and they don't get stressed. I don't have to feel guilty leaving them. I know someone is taking care of them who loves animals. I also like that I get a report on how things went.

Brenda
---
"Dusk To Dawn has been a real lifesaver! Moving to a new town, we didn't know anyone we could trust to take care of our girls, so we were so thankful when we found out about Dusk To Dawn. They're very professional and we can tell they really have a passion for animals. They're so reasonable too! Even after we got a second puppy, the price stayed the same. And most importantly, we feel completely comfortable allowing them to take care of our girls. We honestly don't know what we'd do without them!"
Grace Wellman
---
"I NEVER worry about Boomer when I am not around...Dusk to Dawn is always there. I really appreciate the "very short order" requests that I have had in the past. Thank you!!"
Jeffrey Dow
---
Skeeter and Olga are both adopted cats, one from the Humane Society, and one whose owner had died. It is so great to have a service that we can depend on that takes such good care of our cats!
Nancy Hasenwinkel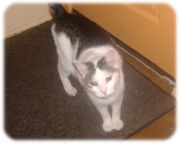 ---
For more than five years now we have had the good folks from Dusk-to-Dawn watch our dog, take him for walks, and check on the house when we are away. They have been GREAT!. We and our Scotty, MacDuffo, give them an A+ in all respects.
Ruth Ratliff and Jan Robbins
---
I love having Dusk to Dawn come to take care of my pet. I have them come when I have evening meetings after work and am not able to get home till late. He gets fed at his regular time, gets to go "outside", and gets playtime and "loving" from his caretaker. He is happy, fed, and relaxed when I get home. I also really appreciate the notes left each time by the caretaker.
Peggy C
---
"We have used the services of Dusk to Dawn for several years now. We are very pleased with their service. We feel very confident when we are away that our dog and home are in good care."
Scott Boyer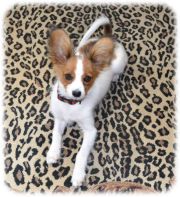 ---
I remember the first time I needed to leave town for a few days, after moving here 4 years ago, and was very concerned about how my Girls would be cared for. Yes…my "Girls", Goldie and JeniGirl. I asked folks I had met here, as well as searching on the internet, and soon found your Dusk-to-Dawn service. From the first time I met you, I knew Goldie and JeniGirl would be well cared for anytime I needed to be out of town.

One of your Associates…Diane, has been our Girls' caretaker since the very beginning and she is wonderful. Not only is it very obvious she loves what she does, but Goldie and JeniGirl are always glad to see her. The fact that our mail is always brought in, as well as other miscellaneous things being taken care of, is just the icing on the cake. Knowing that someone whom I trust to care not only for my Girls but for my home is "on the job" is a tremendous comfort, taking away some of the stress and worry of traveling.

The short of it is…if we had not found Dusk-to-Dawn, I may have had to alter plans for traveling over the years simply because I refuse to have Goldie and JeniGirl be cooped up in a kennel and away from home for any length of time, regardless of how short the time might be.

Thanks again so much for everything you do for us and the loving care you share with our Girls.

Tom & Terri Loperfido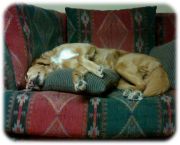 ---
Dusk to Dawn has provided us with such a sense of peace & comfort! I work in a school setting part-time with summers off....so when I returned to work 3 years ago with a new puppy in our home -- it was an enormous blessing to have heard about Dawn Colbert's business, "Dusk to Dawn." Knowing our pup Charlie was getting walked, played with, brushed, petted, fed and loved for 30 minutes each visit on the days that I worked was an enormous relief. The women whom have cared for Charlie are absolutely marvelous fabulous individuals....and in my opinion, "Dog Whisperers!" We feel so blessed! Charlie loves them all! I would be more than happy to answer any questions about this business! I highly recommend DTD's services!
Jennifer Christiason
---
I wholeheartedly recommend Dusk to Dawn's pet sitting service. For over 12 years, the staff have taken excellent care of my two kitties whenever I'm away. I come home to happy, well-cared for cats whether I'm gone for three days or three weeks. In addition to the basics, the staff offer fun playtime and lots of loving. Dusk to Dawn is dedicated, reliable, and handles emergencies well. When one cat got sick, the caregiver called my vet and carried out his instructions. Best of all is the peace of mind when I'm away; I know Dusk to Dawn treats my kitties just like I do--with lots of TLC.
Mac Eblen
---
Dusk to Dawn is our best defense against the big guilt trip Zoey tries to lay on us every time we go somewhere. We know she likes their pet sitters and they love and care about her. We like coming home and reading the sitter's notes and finding Zoey's toys scattered on the floor.
The Hendersons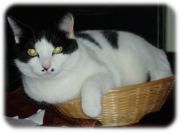 ---
We have had Dusk to Dawn babysitting our pets since 2004. Our dogs
always love the people who come and water and feed them and play with
them. The sitters take them for walks and play ball. The dogs love
the attention. Before Dusk to Dawn we would board our animals at the
vets and when we came back, the animals would be miserable - they
weren't mistreated - they just didn't like being away from home. The
sitter also picks up our mail, which is a real convenience. I wouldn't
go anywhere but to Dusk to Dawn.
Delia Ralston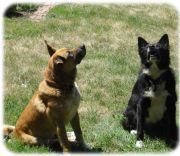 ---
If it weren't for Dusk to Dawn Pet Sitters and Marilyn, in particular, (please forget her name! We don't want to share her with anyone else!) we would literally NEVER, EVER leave town. Our vet, Jim Taylor, recommended them to us. He was giving up his own business so that our baby would be happy...that in itself is a huge testimonial! Marilyn has become a part of our family. Even though our Caesar knows that when she comes, we're going... we can see it in his eyes how happy he is to see her. He adores her. My daughter's dog adores her! Marilyn even picked up my Caesar's medicine at the vet's when we didn't get it before we left. And we DIDN'T EVEN ASK! We just mentioned that we didn't have time to get it before we left. She's THAT DEDICATED! When we leave, Dusk To Dawn literally replaces us. Loved ones aside...air conditioner not working? plumbing? mail? No worries.

Our beloved Caesar is old....14 1/2 and we never know if his next day will for some reason be his last. And if, God forbid, he should be called to doggie heaven when we're away, we know that he'll be in loving arms with Marilyn. Seriously. We can't say enough good things about Dusk To Dawn. I guarantee that you'll be ever so thankful that you trusted Dusk To Dawn with your precious babies. You won't regret asking Dawn Colbert to choose a loving sitter for you. And to care for your home when you're away. They are the absolute best! Not only in the Cedar Valley, but the VERY BEST anywhere.
Janis King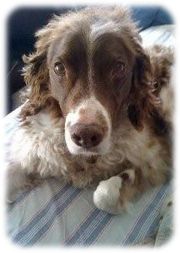 ---
We were concerned about our cat, Oliver's, safety and being lonely when we needed to be out of town. Finding Dusk to Dawn was a great relief. A wonderful person, who belongs just to him, visits everyday. They take care of his needs and give him one on one attention. He loves it. The people at Dusk to Dawn are reliable and always willing to work with our changeable schedule. They give professional, loving care to Oliver and go out of their way to take care of anything that might come up. We have assurance that Oliver and our house are being well looked after when we are away. You can't beat that!
Marv and Patricia Farr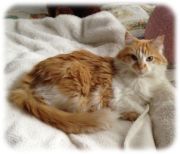 ---
"…we arrived home last night. The boys were in good shape and yet happy to see us. Thanks for the good care! When we leave on trips, there are so many things to consider and worry/be concerned about, but care of my boys is NOT one of them! I know I can contact you and rest assured that they will be well cared for. I do not need to fear that someone will have a party at the house or neglect the cats while we are gone, like before, when I "hired" neighbor/friends/relative teenagers. I know I will return to clean litter boxes, healthy cats and the house as tidy as I left it. What a comfort that is! It helps me enjoy my trip that much more!"
Susan Fettkether
---
Dawn:
I don't know what we would do without you. I hope you know what a very useful service you provide. People who love their pets must know they are lovingly well cared for and you come through big time on this. One less worry for people sometimes going through some rough challenges. Can't thank you and your staff enough.
--Patricia
---
Dawn:
Thank you for an incredible year of service -- we are truly in debt to Dusk to Dawn for all the superb care of our little buddy! Once the school year starts back up -- we're praying we can get back into the weekly routine!! Charlie loves you all!!! (So do we!!!)
--Jen Christiason
THANKS!
---
You ladies came in and I knew instantly you were very comfortable in all sorts of pet situations and clearly pet lovers!
--Patricia
---
Dawn -
It's heart wrenching to leave our Caesar home while we vacation (he tries to smile & look so obedient as we leave in an effort to get us to take him with us!) But I know that he adores Marilyn and has a terrific time with her. She (and you all) make us so comfortable knowing that our baby is really loved in our absence that we literally would change our plans if you weren't available. We wouldn't leave him with anyone else...not even our friends! You are simply the best. You go above and beyond all expectations. Marilyn has come back after thunderstorms to make sure Caesar is OK and has had the opportunity to potty without being scared. If you double your rates, I wouldn't blink. The peace of mind that you give is priceless.
Thank you so much!
Janis, Ed, & Caesar King
---
4-10-2008
Dawn:
Just went to your web page - it is great - If you would like a testimonial from me or Jim. We would tell everyone that your service was great for our pets and so much better than boarding. The dogs love the sitters and all the care they give. We are glad you are there for us.
Delia and James. Ralston,
Mac and Mickey
---
5-27-05
Dear Dusk to Dawn,
Summer is right around the corner and as our family prepares for two separate vacations one item is easily checked off our To-Do list. In-home pet care has been taken care of with one phone call to Dusk to Dawn Pet Sitting. Year after year we use your services, because we love the care and devotion given to our pets and our home. I must also tell you, the first task upon arrival home (aside from greeting our furry friends and hauling in the luggage) is to sit down and read the newsy daily report written while we were gone. What great fun it is to read about the antics, personality traits and happenings that took place while we were gone! Thank you, Dusk to Dawn, Dawn, and Marilyn for providing such a wonderful service. Especially, thank you for loving our pets as much as we do.
Jan Blevins and Family
---
We love the visit logs that Jane leaves after taking care of our boys each day. Her comments make her affection for our pups clear to see and we know that while we are away, they are well-loved and well cared for. We've had other pet sitters in our previous homes (San Antonio, Atlanta, Dallas,) and Jane is easily the most caring and loving care taker we've ever had. We feel completely comfortable heading off on vacation knowing our boys will get to play with her while we are away! The bottom line is that we could not be happier! Thanks for the great work!
Neal K.
---
We never worried about our precious pups with Dusk-to-Dawn in charge. Not only were our dogs in good hands, so was our house. It was nice to be able to leave home and really relax.
Marthe' G.
---
Dusk-to-Dawn pet sitting service was very reliable and trustworthy. Alana did a wonderful job of taking care of my dog and would do little extras while in the house to keep an eye on things.
I would recommend their services to anyone.
Andrea C.
---
Dear Miss Dawn:
I have not traveled lately but when I do I will certainly use Your pet sitting service again . Your staff along with you are compassionate and caring and very trustworthy . My Pets/Furry-Feathered Family are like my children and I can feel that they are secure in your company's care, so it gives me peace of mind when I am out of town.
I will never forget when Miss Alana of your staff went out of her way to pick up Snoops from the Veterinarian's kennel and have him at home when I arrived (and her thorough notes while I was away about her daily visits with all of them.)
Again I want to thank you and Miss Alana . Here is wishing you and your staff the best in 2007 and a very Happy New Year. Wishing you All God's many blessings
Wanda
---
DUSK-TO-DAWN PET SERVICES are the greatest. Our cat, Middy was Dawn's first client. The whole staff provides excellent care and professionalism. We could go on our trip knowing that our "other family member" was being taken care of to the max. Not only do they care for your pet, but offer a variety of other services as well.....pick up your mail; turn on and off lights; etc.
DUSK-TO-DAWN PET SERVICES are truly my ANGELS ON WHEELS!!!!
A satisfied customer and friend, Dee L.
PS: They will even keep a daily diary of your pets progress during your absence.
---
If I have to have anybody come into my home when we're traveling, I want that person to be an animal lover. It's been my experience that those who love animals are, in general, quality people: dependable, conscientious, caring and observant. It's comforting to know that Max and Bailey – our two adopted stray cats who have thrived on affection—will receive playful attention, as well as food and a litter cleanup, when we're not home. The Dusk to Dawn crew leave wonderful detailed notes describing their antics that we both read and enjoy. It's also nice to know that we can count on Dusk to Dawn to bring in the mail and newspapers, give a drink to a wilting plant and, most importantly, contact us if the unexpected happens. Last year when we were away for three weeks, our Dusk to Dawn sitter detected a leak in our humidifier, and by telephone we were able to prevent a potentially big problem. They're a resourceful bunch and seem almost like family. I'm certain that Max and Bailey feel that way.
Carla Sutherland
---
Dusk to Dawn deserves an A+! I have the highest confidence in their services, which leaves my cats stress free during an absence. They are great with my pets, and I really appreciate the mail and newspaper being brought in daily. Thanks, Dusk to Dawn, and I'll be calling you again soon!
Jan Rosauer
---
Warren and I can't say enough about the care and service Dusk to Dawn Pet Sitters have given to our dog Molly.
On a recent trip away during Labor Day weekend, Marilyn, Molly's petsitter, went above and beyond to care for Molly who had become ill. Marilyn kept us posted with daily phone calls on her condition. We felt reassured Molly was getting better listening to Marilyn's words.
We have tried boarding but Molly feels comfortable in her surroundings.
Thank you Dusk to Dawn Professional Pet Sitters!
Ann and Warren Cunningham
---
It's difficult to know where to start.
I'll just start with thank you for your great service. I have two kitties at home who are cared for by wonderful "sitters" for three weeks out of each month from May through November while I am at my summer cabin. I never worry about my cats or my house or anything else while I am gone. The "sitters" are very diligent about my pets care and are very helpful to me in bringing in my mail every day. My neighbors are happy that someone comes to the house each day to check on things
. Thanks again to everyone at Dusk to Dawn for your great, really personalized service.
Mary Lou Raker
---
We have been clients of Dusk to Dawn since the start up of the business. We have peace of mind knowing that our pet is being well cared for while we are away. He is much happier in his own home—he is fourteen years old and never been boarded overnight. The sitters are always helpful and take our newspaper and mail in for us. In the winter months, they check our thermostat to make sure the furnace is working while we are away. These small things have been a great service to us. The best of all, though, is we always arrive home to a happy and healthy pet! Thank you Dusk to Dawn for taking good care of Tuffy for us!
Dawn and David Backer