Our Sitters and Their Friends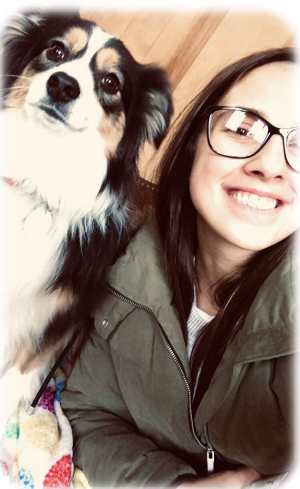 Sydney and Friend
As a young animal lover, I have found that Dusk to Dawn has provided a dream job! I love getting to know everyoneís pets and their personalities! I canít remember a time that I havenít had a pet of my own. I have been trying new careers since my high school graduation and so far this has been the most fulfilling! I recommend this job and our services to every animal lover/owner I know!
---
Andrea and sweet Linus
My name is Andrea Markie and as a pet parent I know how important it is to have a reliable, loving, and experienced pet sitter you can trust. I know how stressful it can be to leave your pets at home so I will strive to keep your pets safe, comfortable, and loved while you are away. The best part of being a pet sitter is being able to help pet parents enjoy their vacations knowing their pets are in good hands.
---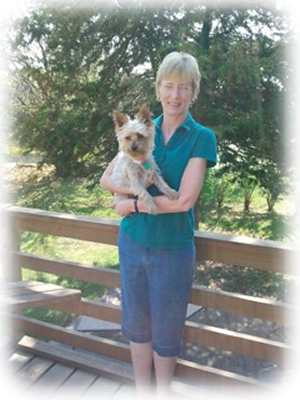 Brenda and Lola
I am an animal lover and I have had pets all my life. Pets are not just animals to me, they are part of the family, and I treat them as such. When I retired from teaching after 34 years, I couldn't think of a better job to have besides pet sitting. I am now able to help care for 4 legged children instead of 2 legged ones.
---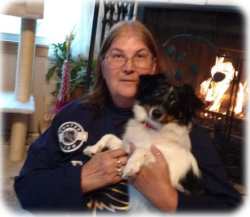 Karen
Karen:
"I have had cats for as long as I can remember and a couple of dogs along the way. Our home has three cats and this is Leo our second rescue dog. I also have a koi pond in back and an aquarium in the house. Being a petsitter gives me the opportunity to meet and learn about all different breeds of animals. There is nothing better than the happy greeting of a dog or the magical purr of a cat. I am very grateful to have this wonderful opportunity."
---
Rose
Rose:
"The thing I enjoy most about petsitting is twofold: I find it interesting to see the different varieties/breeds of cats and dogs our clients own, and I find it even more interesting having exposure to their different and unique personalities."
---
Becky and Dobies
Becky: "I can't imagine that any other job could offer more rewards than pet sitting. I have two Dobies at home and I understand the comfort of knowing that your loved ones are taken care of in your own home. "
---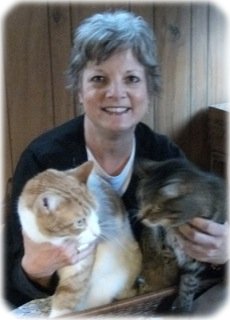 Sue with Mr. Pumpkin and Midge
Sue: "The best thing about pet sitting is seeing how happy the pets are, in the comfort of their own homes. They are happy to see me when I come in the door! I've loved being a professional petsitter for over 20 years, and have enjoyed the same care for our 3 furry family members, when we're away."
---
Dawn with Rosie
Dawn:
"We have four dogs: Rosie, our 4 year old golden, who makes us laugh every single day; Ed, our 10 year old border patrolman mix (what would he do without a fence?;) Simba, our 7 year old Shih Tzu, who gives new meaning to the phrase "terrified of storms"; and Princess, our 15 year old Chihuahua, who is in charge of the house and all of its contents. We also have two kitties: Auggie, our year old "WHAT WERE WE THINKING?" kitty, and Mo Mo, our elderly Persian, who tolerates a lot, and lets us know that quite frequently.

The best part of petsitting, for me, is getting to know so many wonderful pet parents and their pets. We appreciate and value the trust you put in us to care for family members."