Our Sitters and Their Friends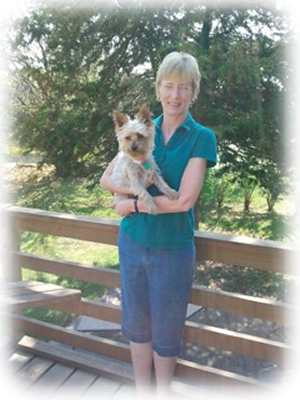 Brenda and Lola
I am an animal lover and I have had pets all my life. Pets are not just animals to me, they are part of the family, and I treat them as such. When I retired from teaching after 34 years, I couldn't think of a better job to have besides pet sitting. I am now able to help care for 4 legged children instead of 2 legged ones.
---
Julie and Ned
Julie has been a huge animal lover her whole life. She grew up volunteering for local shelters and talking her parents into adopting pets. She knew she wanted to work with animals for the rest of her life. Julie has been in the pet industry for 6 years. She worked for veterinarians and went to school for veterinary technology. Julie quickly learned she wanted to be a caretaker for pets, and began pet sitting 2 years ago. She resides in Cedar Falls with her husband Matt. They have 5 fur babies, Ned, Bowie, Bug, Boogie and Marge.
---
Lacey and Friend
Hi! My name is Lacey.
I've worked as a pet sitter for a couple of years now. Time flies when you are having fun. I live and breathe animals. I've worked full time at a local veterinary hospital for 6 years. Before that I also worked at the humane society. I love all animals even ones with feathers or scales. I take great pride in my work. I treat each pet as if they were my own. Sometimes I can't believe that I get paid to care for and snuggle critters all day. I've had several foster and rescue pets. When a few were too sick or injured to be adopted out I gave them a forever home with me. I look forward to my visits and appreciate everyone who shares their furry family members with me while they are away.
---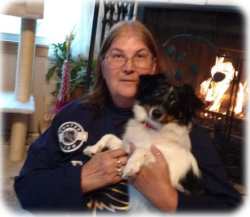 Karen
Karen:
"I have had cats for as long as I can remember and a couple of dogs along the way. Our home has three cats and this is Leo our second rescue dog. I also have a koi pond in back and an aquarium in the house. Being a petsitter gives me the opportunity to meet and learn about all different breeds of animals. There is nothing better than the happy greeting of a dog or the magical purr of a cat. I am very grateful to have this wonderful opportunity."
---
Rose
Rose:
"The thing I enjoy most about petsitting is twofold: I find it interesting to see the different varieties/breeds of cats and dogs our clients own, and I find it even more interesting having exposure to their different and unique personalities."
---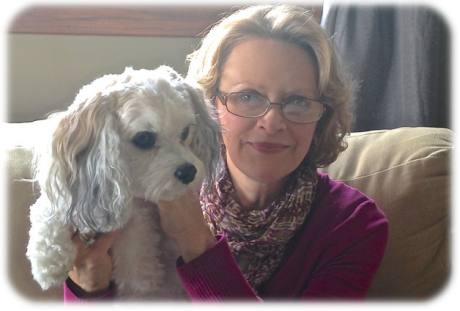 Kirby and Shellie
Shellie:
"Kirby is a 2 year old Cavachon who enjoys road trips. He loves to play and is quite the ball-handler. He pushes his ball around the house (with his little nose), several times a day for long periods of time. He loves people of all ages and is a master of amazing dog tricks.
Why do I enjoy petsitting? I get to meet some wonderful people that I would never get to meet otherwise. Being a pet owner myself, I know how important it is for our "babies" to be cared for by someone who really cares about them. I strive to be that someone by giving each pet the love and attention that they so need when their "parents" are away. It gives me great satisfaction to provide my clients (and their pets) with the type of care I would want if I were to hire a petsitter."
---
Becky and Dobies
Becky: "I can't imagine that any other job could offer more rewards than pet sitting. I have two Dobies at home and I understand the comfort of knowing that your loved ones are taken care of in your own home. "
---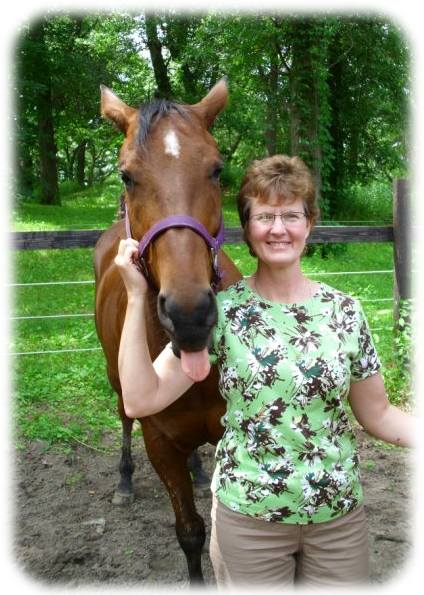 Barney and Stacy
Stacy: "I started pet sitting about 3 years ago for some neighbors and then I was fortunate to be hired by Dusk to Dawn. I love taking care of pets! It has been a wonderful 3rd job/hobby. Our family has a dog named Jazz, 5 years old. He is a Rat Terrier. We have a horse named Barney, 6 years old. He is a Paint/Arabian cross. His real name is Barnabas, Son of Courage; but we just call him Barney. We board him at Shady Oak Stables in Hudson; which is a coop with about 35 horses. Our daughter Jessica does a lot of 4-H projects with our pets. We are also leasing a Quarter horse named Red (Red Hot Eddie). I teach preschool at St. Timothy Lutheran Church in Hudson, do chores at the stable 3x a week, and pet sit for Dawn. I'm a very lucky person."
---
Marilyn with Buddy and Maverick
Marilyn: "I've made so many 'furry, feathered and fin' friends in the 11 years I've been with Dusk to Dawn. I am so blessed to be invited back to care for your pets as they show their appreciation each visit I am in your home. I live in a condo, where we are restricted to one pet and she is our little two year old Schnoodle named Lucy, who was surrendered to us at nine months old. When I return from my petsit visits, she loves to get on my lap and sniff who I have been taking care of. Do you have a job where you are greeted every day with licks, tail wags, happy meows and barks, cuddles, excited jumping, and on and on? If not and you love animals, give Dawn a call!"
---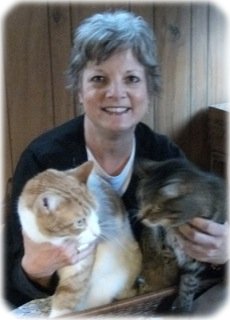 Sue with Mr. Pumpkin and Midge
Sue: "The best thing about pet sitting is seeing how happy the pets are, in the comfort of their own homes. They are happy to see me when I come in the door! I've loved being a professional petsitter for over 20 years, and have enjoyed the same care for our 3 furry family members, when we're away."
---
Dawn with Rosie
Dawn:
"We have four dogs: Rosie, our 4 year old golden, who makes us laugh every single day; Ed, our 10 year old border patrolman mix (what would he do without a fence?;) Simba, our 7 year old Shih Tzu, who gives new meaning to the phrase "terrified of storms"; and Princess, our 15 year old Chihuahua, who is in charge of the house and all of its contents. We also have two kitties: Auggie, our year old "WHAT WERE WE THINKING?" kitty, and Mo Mo, our elderly Persian, who tolerates a lot, and lets us know that quite frequently.

The best part of petsitting, for me, is getting to know so many wonderful pet parents and their pets. We appreciate and value the trust you put in us to care for family members."