Our Sitters and Their Friends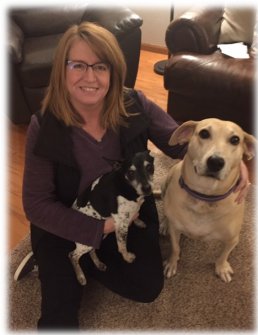 Emily VanRoosendaal, Buddy and Sandy
"My family has Buddy (smaller guy) and Sandy, both adopted from the Cedar Bend Humane Society. We also have Purrrrcy, our cat, who canít stand the dogs so she does her own thing! Pet sitting is so fun as Iím able to meet lots of different dogs and cats. I also like helping pet owners be able to keep their furry friends at home, in their own space, while theyíre away."
---
Margie and Maggie Mae
"Hi - I am Margie with my sweet Maggie Mae. Being a pet sitter gives me the opportunity to spend time with our clients fur babies. The snuggles and licks are the best. I am thankful for having such a rewarding job."
---
Becca and Colt
"I'm a North Dakota native who moved to Waterloo in 2017. I'm currently owned by two cats. Newbie is a fat, orange, one eyed tabby and Nala is a sassy long haired torti. The dog pictured is my doggy nephew, a Dalmatian named Colt. Heís one of my best buddies in the world and he and my sister even lived with me for a short time. I enjoy working for Dusk to Dawn because itís good stress relief from my day job. I love having an excuse to spend 30 uninterrupted minutes to visit and play with animals of all shapes and sizes."
---
Leta, Ollivander and Rowena
"I enjoy exploring the Cedar Valley, meeting different breeds of animals and seeing the different ways people love their pets. My own pets (Ollivander, Rowena, Neville and Mad-Eye) have benefited from what I've learned on my visits."
---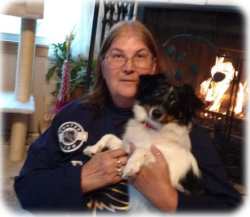 Karen and Leo
Karen:
"I have had cats for as long as I can remember and a couple of dogs along the way. Our home has three cats and this is Leo our second rescue dog. I also have a koi pond in back and an aquarium in the house. Being a petsitter gives me the opportunity to meet and learn about all different breeds of animals. There is nothing better than the happy greeting of a dog or the magical purr of a cat. I am very grateful to have this wonderful opportunity."
---
Becky and Dobies
Becky: "I can't imagine that any other job could offer more rewards than pet sitting. I have two Dobies at home and I understand the comfort of knowing that your loved ones are taken care of in your own home. "
---
Dawn with Rosie
Dawn:
"We have four dogs (Rosie, Sammi, Eddy and Simba), and two kitties (Auggie and Max). I have been petsitting since 1996, when I opened Dusk to Dawn for business. Animals are my lifelong passion. We appreciate the trust you put in us to care for your wonderful family members."